The most modern game selection in the BC interior!
Selection of games is always changing! These are just some of the styles and types of games that we offer! Games for the young kids, kiddie rides and much more!
​
Ticket Dispensing Games!
Skee Ball! Whac-a-Mole!
Basketball! Airhockey!
Racing Simulators!
Big Screen Gun Games!
Carousel & Kiddie Rides!
Modern Pinball Machines!
​
Earn tickets & win prizes!
GREAT SELECTION OF GAMES FOR AGES 5+, TEENS AND EVEN ADULTS!
Game Credits Pricing
Load up your FUN CARD with credits to play all the games!
The more you buy the more you save!
Credit & tickets stay on your card and never expire!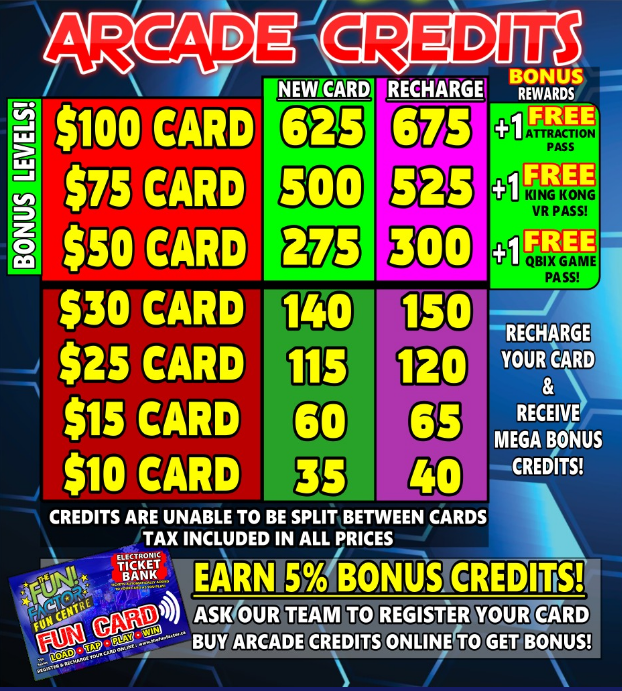 Reharge your card & earn 5% bonus
All prices include GST - credits cannot be split between cards
Earn Tickets & Win Prizes!
Trade your Tickets for Some Great Prizes!
Many of our games will award you tickets based on how well you played! Tickets automatically loaded to your fun card!. SAVE YOUR TICKETS & TRADE IN FOR A BIGGER PRIZE!
CARD SWIPING SYSTEM:
MODERN, CLEAN & CONVENIENT! - We use a modern card system! No more dirty, clumsy tokens! All your game credits are stored securely on your own FUN CARD!
ELECTRONIC TICKETS & MORE OF THEM! No More Messing around with physical tickets! All your tickets are automatically loaded onto your card for safe keeping!
ENVIRONMENTALLY FRIENDLY - saves 1000's of pounds of waste paper going to the landfill every year with Electronic Tickets!
SKIP THE LINE! Recharge your card with credits right through our website, or even your phone!
ONLINE PORTAL! Check your card balance from your phone or tablet!
BONUS CREDITS! Save your FUN CARD and bring it in next time to earn 5% BONUS CREDITS!